Glenelg, South Australia
Oaks Plaza Pier
"Nice"
We stayed in an ocean view apartment on the fifth floor. The unit was modern and everything was in good order. The view was nice and the beds were good. Parking is down below and was an extra $20. The pub and restaurant in the lobby were handy and the food was ok. I'd stay again.
— John C, TripAdvisor
Enter promo code MYOAKS when making a booking to receive a 10% discount & join the loyalty program.
Gallery
Explore our stunning apartment accommodation, incredible position on Glenelg Beach and excellent on-site facilities.
Features
Take advantage of our leisure facilities including an indoor heated lap pool, spa, sauna and fully equipped gymnasium.
Room Types
Relax in our spacious studios and 1, 2 and 3 bedroom apartments, featuring wide balconies overlooking the beach or park.
View All Rooms
What's Around?
Oaks Plaza Pier is surrounded by a profusion of a variety of cafes, restaurants and bars such as the new "The Rocks" restaurant.
Oaks Plaza Pier
Located on Glenelg Beach, Oaks Plaza Pier is just 15 minutes from Adelaide City by car or taxi, or 45 minutes by train. On-site parking is available, parking is limited, fees apply. Bookings are essential and should be made in advance via reservations or the hotel.
What's Around?
Oaks Plaza Pier is ideally situated for couples, families and individuals to enjoy Adelaide's array of beach and city attractions. Stroll to the golden sand of Glenelg Beach, the café-lined Jetty Road precinct, various galleries or the Beachouse family entertainment centre. Why not spend a day on the water aboard a dolphin cruise or launch your own boat from a nearby boat ramp? Or jump on the tram to Adelaide city and discover the National Wine Centre of Australia, Adelaide Zoo, Adelaide Oval and Adelaide Central Market.
What Would You Like To Do?
Set a 3-minute walk from the Beachouse amusement park, Oaks Plaza Pier is also just 8km from Adelaide Airport and 12km from Adelaide Festival Centre performance arts venue, making it the perfect choice for singles, couples or families looking for the perfect South Australian beachside getaway.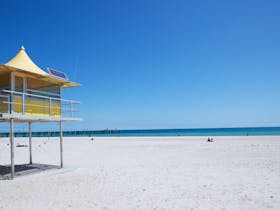 Date: 18 February 2017
Venue: 16 Holdfast Promenade
Things To Do In Glenelg
City of Holdfast Bay
Beach Polo Glenelg Beach
The flourishing and glamorous international sport of Beach Polo is returning to Australian shores. The white sands of Adelaide's Glenelg Beach will host the event on Saturday 18 February 2017, against the cerulean backdrop of St Vincent Gulf. Don't miss out on the social event of the year. Bookings now open through Ticketek. Please note booking fees apply. Refer to Ticketek website for details.
Glenelg
City of Holdfast Bay
The Cat Empire and Xavier Rudd
Date: 11 February 2017
Venue:
Unique outdoor concert events this summer Widely held as two of Australia's most outstanding live acts, The Cat Empire & Xavier Rudd will hit the highways together for the first time in January and February 2017 for a series of unique concert events to be held in picturesque open-air settings. Presented by Zaccaria Concerts & Touring, the tour will bring these two incredible acts together for a handful of atmospheric outdoor concert events in remarkable wide open spaces , along with HARTS, Ocean Alley and Sahara Beck. The City of Holdfast Bay is thrilled to host this unique show on its beach on Saturday 11 February 2017. Tickets from Ticketmaster.
Oaks Hotels & Resorts