Caloundra, Queensland, Australia
Oaks Oasis Resort
"Fabulous!"
Fantastic facilities and very family friendly. Perfect for a get away with the children. The restaurant was more than accommodating for my child with sever food allergies, and restaurant staff were so good with the children. The hotel staff were very friendly and more than happy to help out. I cannot recommend this place enough!
— Katie H, TripAdvisor
Enter promo code MYOAKS when making a booking to receive a 10% discount & join the loyalty program.
OVERVIEW
CALOUNDRA RESORT ACCOMMODATION
Make this holiday your best ever by visiting Caloundra's most exciting hotel. Our fully refurbished Caloundra Resort is set on sweeping lush tropical grounds and features a water park, resort-style pool, putt-putt golf course, sandpit, climbing frame and giant Kangaroo Jumper making it loads of fun for anyone.
Address: 2 Landsborough Parade, Caloundra QLD 4551
Reservations: 1300 031 963
Reception: 07 5491 0333
Download Fact Sheet
Gallery
Explore our expansive resort grounds, modern rooms and incredible onsite facilities including a bar and restaurant, leisure facilities and dedicated conference and event spaces.
Full kitchen with microwave oven and dishwasher

Apartment bedroom with balcony access and comfortable bed

Apartment balcony with resort view
Features
Unwind in our beautiful tropical surroundings and explore our full range of resort features.
Room Types
We offer an extensive range of room options to suit every type of traveller. Enjoy studio, apartment or villa style accommodation for up to 7 guests.
View All Rooms
Special Offers
With Oaks Hotels & Resorts special offers, there's never been a better time to book that getaway
View More
Extra Offers
Restaurants

Sit back, relax and enjoy a delicious meal at Reflections. Boasting beautiful views over our stunning lotus lake, it's a the perfect setting for a tasty breakfast, lunch or dinner.

Read More

CONFERENCES

If you're looking for a relaxed meeting and conference venue on the Sunshine Coast, we have four newly refurbished on-site conference rooms and offer an array of catering options and business and secretarial services.

Read More
What's Around?
Ideally situated on South East Queensland's Sunshine Coast, Oaks Oasis Resort is well placed to explore the regions best attractions.
Oaks Oasis Resort
Oaks Oasis, Caloundra is located just an hour's drive north of Brisbane on the southern tip of Queensland's Sunshine Coast. We're just a 30 minute drive Sunshine Coast Airport and we have parking available on-site.
What's Around?
From the resort, you can easily walk to Caloundra's finest attractions including Bulcock Beach, Kings Beach and a selection of boutique shops. When hunger strikes, you can stroll downtown to an assortment of cafes and restaurants.
What Would You Like To Do?
Set among 10 acres of tropical garden, Oaks Oasis Resort is just moments from Golden Beach and boasts an onsite Water Park, Putt-Putt Golf Course and play equipment for the kids making it the perfect destination for families, couples and groups.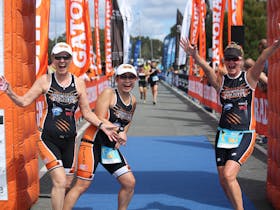 Date: 05 February 2017
Venue: The Esplanade, Golden Beach
Things To Do In Caloundra
The Event Crew
Gatorade Queensland Tri Series - Round 6 Caloundra
Gatorade Queensland Triathon Series is back at the Caloundra Power Boat Club for what is known as the 'series highlight' round! It's a great excuse to head up to the Sunshine Coast and make a weekend out of it. With a beautiful canal swim and finishing in front of the Caloundra Power Boat Club, then continuing on with celebrations afterwards, it's a great way to have fun & exercise with your mates.
Caloundra
CHENREZIG INSTITUTE
Meditation at Caloundra Fridays
Date: 15 July 2016 - 16 December 2016
Venue: 124 Bulcock Street
Meditation encompasses a variety of techniques that can develop mindfulness, tranquillity, and insight. A regular meditation practice will enable you to get your life moving in rich, full and meaningful ways. Join them for a guided meditation on Friday evenings in Caloundra. These sessions are a great opportunity to meditate with others in a supportive environment and establish a time each week to spend on your own inner development. Established in 1974, Chenrezig Institute is a centre for Buddhist study, meditation, retreat, and practice nestled in the foothills of the Sunshine Coast Hinterland. Today, the Institute is home to a Tibetan Geshe (Lama), a large community of ordained Sangha (monks and nuns), students, residents, volunteers, retreatants, and guests. Apart from the formal study programmes, Chenrezig Institute is a peaceful, calm and relaxing place to spend a few hours, days or weeks. Stroll along the bush paths, wander in the formal garden, sip espresso in the café, have a vegetarian meal, drop in for a meditation class or teaching, or just sit and listen to life. Friday evenings 6pm to 7pm above Britannia Garage. No need to book. Entry by donation. All welcome!
Caloundra
Suncoast Spinners
Suncoast Spinners Wheelchair Basketball Tournament 2017
Date: 13 January 2017 - 15 January 2017
Venue: North Street
The Suncoast Spinners host a world class wheelchair basketball tournament each year in January at the Caloundra Indoor Sports Stadium over three days. The tournament comprises of teams and athletes across three divisions from all states around Australia and overseas. Athletes consist of current and former Australian Paralympian and Australian World championship players. A stunning display of skill and sportsmanship, a must for all to witness.
Oaks Hotels & Resorts