Townsville, Queensland, Australia
Oaks M on Palmer
"Definitely recommended"
My 199th city and first visit to Townsville, I stayed 3 night for a conference. I chose a 'furnished apartment' style accommodation, as that's my preference, allowing for space and allowing you the flexibility of cooking your own food, or comfortably eating takeaways. I also took a 1-bedroomed unit and would highly recommend it. The Oaks was excellent. Very friendly and professional check in. Apartment was bright, clean, and spacious with comfortable bed.
— DocM-Melbourne, TripAdvisor
Enter promo code MYOAKS when making a booking to receive a 10% discount & join the loyalty program.
OVERVIEW
Stylish & Central Townsville Accommodation
Oaks M on Palmer is the perfect choice of Townsville accommodation for those wanting to make the most of this exciting coastal city with prime access to local attractions, and the comfort of fully serviced and spacious apartment living.
Address: 81 Palmer Street, Townsville QLD 4810
Reservations: 1300 559 129
Reception: 07 4753 2900
Download Fact Sheet
Gallery
Explore our modern and stylish 4.5 star hotel with spacious accommodation, fully equipped gymnasium and stunning swimming pool.
Features
Make the most of your visit to Townsville with access to our convenient onsite guest facilities.
Room Types
Choose from a selection of premier apartment accommodation in Townsville with studio and 2 bedroom apartments.
View All Rooms
What's Around?
Oaks M on Palmer is ideally positioned to take advantage of Townsville's favourite restaurants, attractions and experiences.
Oaks M on Palmer
Oaks M on Palmer is just 20 minutes drive from the Townsville Airport and is within walking distance to Anzac Memorial Park and the Townsville Entertainment Centre – a supremely suitable choice for visitors to North Queensland.
What's Around?
Townsville boasts a selection of world-class snorkeling and diving hot spots on its doorstep, making it the perfect base for snorkeling and diving enthusiasts.
What Would You Like To Do?
Townsville boasts a selection of world-class snorkeling and diving hot spots on its doorstep, making it the perfect base for snorkeling and diving enthusiasts.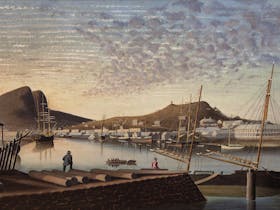 Date: 02 December 2016 - 22 January 2017
Venue: Cnr Denham and Flinders Streets
Things To Do In Townsville
Townsville City Council (Events, Galleries, Theatre)
Picturing Townsville
Drawing works from the incredible City of Townsville Art Collection, Perc Tucker Regional Gallery marks Townsville's celebration of its 150th year with Picturing Townsville, an exhibition of hidden treasures created across those 150 years. Each work captures a moment in time and tells a story of the development of our city, and the issues and events that have shaped our community.
Townsville
McDonald's Townsville Running Festival
McDonald's Townsville Running Festival
Date: 06 August 2017
Venue: The Strand
The McDonald's Townsville Running Festival includes a Marathon (42.2 kilometres) Half Marathon (21.1 kilometres), 10K Classic, adult and junior 5 k Run/Walk, 5 kilometre Corporate Challenge and Hero Run. Their AIMS accredited courses are fast, flat and hug the coastline as well as feature the 43rd Townsville Marathon - Australia's second oldest race. All runners experience spectacular views of the Coral Sea, Magnetic Island and the Marina as they follow their tropical blue line and vie for AUD23,000 prize money. With a predawn start marathoners experience a breath taking sunrise over Cleveland Bay as they run along Townsville's award-winning Strand Beach. Arrive early for the pre-race dinner, take in a Cowboys NRL home game and stay for the famous after-party. Treat yourself to a tropical winter getaway this August. Run Townsville and Explore the region. An event Run by Runners for Runners.
Oaks Hotels & Resorts