Sydney, New South Wales, Australia
Oaks Goldsbrough Apartments
Perfect stay for a great price!
Me and my partner spent two nights in a studio apartment and this wonderful hotel. The room was just what we needed. Not too small but perfect for somewhere to sleep and hangout in between everything we did while in Sydney. The room was clean and tidy and had a little balcony. Location of this hotel is absolutely amazing. It was roughly a five minute walk through the car park to arrive at Darling Harbour. The staff at Oaks were fantastic!
— Keely P, TripAdvisorRead Reviews
Enter promo code MYOAKS when making a booking to receive a 10% discount & join the loyalty program.
OVERVIEW
OAKS DARLING HARBOUR HOTELS
For travellers in search of centrally located apartment accommodation in one of Sydney's most sought-after locations, Oaks Goldsbrough Apartments in Darling Harbour is the perfect choice. Combining comfortable, self-contained living this hotel is perfect for every kind of stay; whether you're in town for one night or looking for an extended stay.
Address: 243 Pyrmont Street, Darling Harbour NSW 2009

Reservations: 1300 667 078

Reception: +61 2 9518 5166
Download Fact Sheet
Gallery
Take a peek at our beautifully appointed studios and apartments, unparalleled location and comfortable hotel facilities.
Features
Just a 30-minute drive from Sydney Airport, this hotel boasts a coffee shop, sauna, swimming pool, spa and secretarial services. For public transport Central Station is ten minutes away.
Room Types
Exuding a traditional 1800s charm, this refurbished heritage listed building stands out with its beautifully restored architecture. Oaks Goldsbrough Apartments combines this classic appeal with modern in-room amenities, stylish furnishings and a supremely convenient location.
View All Rooms
What's Around?
Located on Pyrmont Street at the edge of the central business district (CBD), Oaks Goldsbrough Apartments is a popular choice with both business and leisure guests.
Oaks Goldsbrough Apartments
Located on Pyrmont Street, Oaks Goldsbrough Apartments is easily accessible by car, light rail or train. Nearby Wilson Parking (100 Murray St) offers discounted parking through hotel reception. Please contact the hotel for further information where required.
What's Around?
A few steps from Darling Harbour and in close proximity to numerous nearby attractions like Chinatown, Luna Park, multiple grassy parks and Circular Quay, a stay at Oaks Goldsbrough Apartments places you perfectly to explore this wonderful city.
What Would You Like To Do?
Oaks Goldsbrough Apartments are perfectly placed to explore Sydney and experience the city's most popular attractions.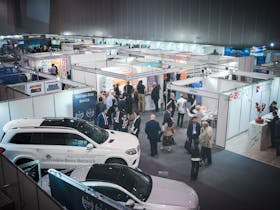 Date: 28 June 2017 - 29 June 2017
Venue: 321 Kent Street
Things To Do In Sydney
Australian Business Forum
B2BEXPO Sydney
Following the success of B2BExpo 2016 in both Melbourne and Sydney, B2B returns to both cities in 2017! The B2BExpo showcases essential products and services within Australia's influential SME market, connects government and key industry associations, and presents new startups, innovation trends and solutions, which are just some of the many highlights involved in B2BExpo 2017. As the SME sector continues to gain momentum, it is vital for management to position their business and assess potential opportunities accurately and correctly. To organise the diverse SME sector, B2BExpo 2017 will include representative B2BExpo 2017 Feature Zones including International Trade Zone, Start-up Street, IT matters, E-Commerce zone, Business Opportunities Showcase, Government Pavilion, Business Services Hub, Business Learning Zone, Financial Services Hub, Technology Zone, Hospitality and Business Incentives Zone, and the Education and Training Zone. B2BExpo 2017 is supported by the Victorian and New South Wales governments, and connects SMEs to industry leaders from all sectors under one roof.
Sydney
Destination NSW
Bledisloe Cup Festival
Date: 06 August 2017 - 20 August 2017
Venue: Sydney
The 2016 Bledisloe Cup Festival offers fans the opportunity to celebrate one of the greatest rivalries in world sport, the Qantas Wallabies versus the New Zealand All Blacks. The festival will culminate with the Bledisloe Cup test match at ANZ Stadium. The initiative will bring both passionate NSW country and Sydney supporters closer to the national team than ever before with a range of community activities planned during each stage of the tour. For more information please visit the web site.
Milsons Point
Sydney Running Festival (Pont3)
Blackmores Sydney Running Festival
Date: 17 September 2017
Venue: Alfred Street South
Described as one of the most scenic and spectacular courses in Australia, the Blackmores Sydney Running Festival attracts around 33,000 participants annually. In 2013 the Blackmores Sydney Marathon was the first Australian marathon to be broadcast live in 23 years. The popularity of the Sydney Marathon has attracted both international and local elite athletes and as a result in 2014 the Sydney Marathon achieved Gold Label by the International Association of Athletics Federation (IAAF). The Blackmores Sydney Running Festival consists of four exciting events, all crossing the Sydney Harbour Bridge with the two longest distances finishing at the iconic Sydney Opera House and the two fun runs at Sydney's prestigious Conservatorium of Music. Runners, joggers and walkers of all skill levels and ages will experience a challenge or a fun day out to explore the extraordinary scenic views of Sydney.
Oaks Hotels & Resorts