Gold Coast, Queensland, Australia
Oaks Calypso Plaza
Beautiful place to stay
Very friendly staff on arrival and departure. Beautiful clean rooms and bathrooms. Central to lots of eating places. Great weather was a bonus. Highly recommend Oaks Calypso Plaza Resort. Looking forward to returning soon.
— Karen C, TripAdvisorRead Reviews
OVERVIEW
FAMILY FRIENDLY Coolangatta Accommodation on the Gold Coast
Oaks Calypso Plaza offers family-friendly Coolangatta accommodation on Queensland's famous Gold Coast. Coolangatta offers the best of two different worlds – from the family theme parks and attractions on the Gold Coast, to the natural beauty and quaint seaside villages of Northern NSW and the Tweed Valley, Oaks Calypso Plaza is the perfect hub from which to explore the exciting region.
Address: 99 Griffith Street, Coolangatta QLD 4225
Reservations: 1300 662 293
Reception: 07 5599 0000
Email: calypso@theoaksgroup.com.au
Download Fact Sheet
Gallery
Explore our charming beachside hotel rooms, lagoon-style pool and dedicated conference and event facilities.
Features
When you're not out experiencing all the Gold Coast has to offer, enjoy the many leisure facilities we have onsite.
Room Types
Our 4.5-star resort features spacious one and two bedroom self-contained apartments, most with sheltered balconies providing pool, ocean or hinterland views.
View All Rooms
What's Around?
Oaks Calypso Plaza is located just moments from the beach and acts as the perfect base to explore this incredible region.
Oaks Calypso Plaza
Oaks Calypso Plaza is located just 8 minutes from Coolangatta Airport by car or taxi, or 1 hour and 25 minutes from Brisbane Airport. On-site parking is available, but parking is limited, no fees or bookings required.
What's Around?
Coolangatta itself boasts some of the most stunning beaches and popular surfing and swimming spots in the region and an assortment of beachfront restaurants, cafés and shopping are also just a short stroll away from Oaks Calypso Plaza. Or go further explore the Gold Coast's smorgasbord of theme parks, markets, restaurants, bars and other alluring attractions.
What Would You Like To Do?
Footsteps from the beach and perfectly positioned in the buzzing surrounds of Cooloongatta, Oaks Calypso Plaza is the ideal hub for exploring the best the Gold Coast has to offer!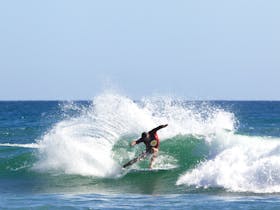 Date: 25 January 2018 - 28 January 2018
Venue: Goodwin Terrace
Things To Do In Burleigh Heads
SURFING QUEENSLAND INC.
2018 Burleigh Pro
The 2018 Burleigh Pro has been further bolstered with an additional day being added to the already world famous event. The four day event running between January 25 to 28 will attract some of the best surfers in the world who are battling it out for the valuable World Surf League (WSL) Qualifying Series (QS) points and prize purse. The natural amphitheatre which is Burleigh Heads is the best spot to catch all the action as some of the worlds best surfers going head to head.
Willowbank
Willowbank Raceway
50th Winternationals
Date: 08 June 2017 - 11 June 2017
Venue: Champions Way
The Winternationals is the largest championship Drag Racing event outside of the USA and the biggest drag racing event in Australia. The Winternationals is the highest profile event on the Australian Drag Racing calendar and is the event all competitors want to win, and as a result has a vast number of entries with on track action running all through every day of the event. The event runs from Thursday to Sunday and in addition to great drag racing action, features multiple big screens, interviews with drivers & teams, on screen stories, interactive crowd activities and heaps of action and entertainment. Great family value with children 13 and under admitted for free.
Warwick
Abbey of the Roses
Abbey of the Roses - Christmas in July
Date: 01 July 2017 - 29 July 2017
Venue: 8 Locke Street
Christmas In July dinners at the Abbey Country House Manor, have become a popular annual event in Warwick. They are held every Saturday night and include a three course set dinner, 4 hour beverage package, Christmas trivia, secret Santa and it nearly always snows at the famous Christmas in July Dinners. Accommodation is limited so book early. Warwick Jumpers in Jazz festival is the last two weekends and there is a 2 night minimum stay these nights.
Oaks Hotels & Resorts