Adelaide, South Australia
iStay Precinct
"Great location with reasonable rates"
My room was spacious and even though the kitchen did not have too many bits and pieces, I could prepare some meals. Clean and tidy room and the water pressure was amazing. The pool, spa, sauna and steam room were first class.
— Linda J, TripAdvisorRead Reviews
Enter promo code MYOAKS when making a booking to receive a 10% discount & join the loyalty program.
Overview
ADELAIDE CBD HOTELS BY OAKS
iStay Precinct offers affordable Adelaide CBD accommodation with a range of 1 and 2 bedroom apartments to choose from. Each apartment contains full kitchen and laundry facilities, an open plan living area and private balconies with sweeping city views. iStay Precinct's luxurious facilities include an indoor heated pool, spa and steam room to help you relax and enjoy your stay. Explore Oaks Adelaide hotels offering below.
To be able to bring you exceptionally low rates, iStay hotels offer a different and more flexible level of service. If you have chosen to stay at an iStay property, you will receive the best available unserviced rate.

You will have the choice of cleaning service options, at an additional cost upon check in at your hotel.

If your length of stay is for more than 7 nights you will receive a complimentary full cleaning service in the middle of your stay.
If you are staying more than 12 days you will receive this service every 7 days.
---
Address: 185 Morphett Street, Adelaide SA 5000 Australia
Reservations: 1300 665 591
Reception: 08 8112 4500
Email: precinct@theoaksgroup.com.au
Download Fact Sheet
Gallery
Explore our modern, urban-style apartment accommodation in the Adelaide CBD.
Features
iStay Precinct's luxurious facilities include indoor heated pool, spa and steam room.
Room Types
iStay Precinct offers affordable 1 and 2 bedroom apartment accommodation.
View All Rooms
Special Offers
With Oaks Hotels & Resorts special offers, there's never been a better time to book that getaway.
View More
What's Around?
iStay Precinct's supreme location means you have doorstep access to some of Adelaide's most exciting hot spots and attractions.
iStay Precinct
Located in Adelaide's bustling city centre surrounded by lush green parklands, iStay Precinct is just 10 minutes by car or taxi to Adelaide airport. Parking available onsite for a fee.
What's Around?
Conveniently located in close proximity to a bustling hub of attractions, stroll to the myriad of entertainment venues, cocktail bars, restaurants and shopping destinations.
What Would You Like To Do?
From outstanding Barossa Valley wine tours to kayaking along the Port Adelaide River or catching a game of cricket at the Adelaide Oval, there's a range of activities to suit everyone's taste in Adelaide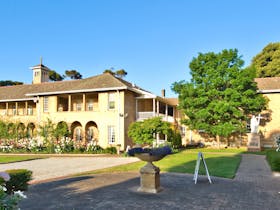 Date: 24 September 2016 - 23 September 2017
Venue: 15 Cross Road
Things To Do In Urrbrae
The Monastery
The Monastery Conference Centre
Are you looking for a truly unique meeting experience? The Monastery offers five main conference rooms and several smaller rooms for quieter conversations, board meetings or small group work. A combination of historic charm and ambience, along with the professionalism and facilities you need in a modern conference venue. Their largest room seats up to 110, offering contemporary styling and panoramic garden views. Smaller, intimate rooms are also available, perfect for training sessions and meetings. Fully catered packages designed by their in-house chef. Host your next business event, workshop, training session or retreat with The Monastery and experience 100 years of Hospitality.
Oaks Hotels & Resorts