Adelaide, South Australia
iStay Precinct
"Great location with reasonable rates"
My room was spacious and even though the kitchen did not have too many bits and pieces, I could prepare some meals. Clean and tidy room and the water pressure was amazing. The pool, spa, sauna and steam room were first class.
— Linda J, TripAdvisor
Overview
AFFORDABLE, CENTRAL AND STYLISH HOTEL IN ADELAIDE CBD
iStay Precinct offers affordable accommodation which include 1 and 2 bedroom apartments. Each apartment contains full kitchen and laundry facilities, open plan living and private balconies with sweeping city views. You can also enjoy iStay Precinct's luxurious facilities including indoor heated pool, spa and steam room.
Address: 185 Morphett Street, Adelaide SA 5000 Australia
Reservations: 1300 665 591
Reception: 08 8112 4500
Download Fact Sheet
Gallery
Explore our modern, urban-style apartment accommodation in the Adelaide CBD.
Features
iStay Precinct's luxurious facilities include indoor heated pool, spa and steam room.
Room Types
iStay Precinct offers affordable 1 and 2 bedroom apartment accommodation.
View All Rooms
What's Around?
iStay Precinct's supreme location means you have doorstep access to some of Adelaide's most exciting hot spots and attractions.
iStay Precinct
Located in Adelaide's bustling city centre surrounded by lush green parklands, iStay Precinct is just 10 minutes by car or taxi to Adelaide airport. Parking available onsite for a fee.
What's Around?
Conveniently located in close proximity to a bustling hub of attractions, stroll to the myriad of entertainment venues, cocktail bars, restaurants and shopping destinations.
What Would You Like To Do?
From outstanding Barossa Valley wine tours to kayaking along the Port Adelaide River or catching a game of cricket at the Adelaide Oval, there's a range of activities to suit everyone's taste in Adelaide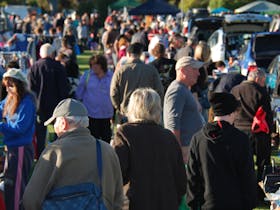 Date: 08 May 2016 - 25 June 2017
Venue: 305 Brighton Road
Things To Do In North Brighton
Brighton Sunday Market
Brighton Sunday Market
Held on the 2nd and 4th Sunday of every month, (unless this falls on Easter Sunday, ANZAC Day or Christmas day) the grounds of Brighton Secondary School are converted into one of the biggest 'trash and treasure' markets in the state. The Market is run by Brighton Secondary School's 'Music Parents Support Group' - volunteering parents of students. Originally the market was formed to fundraise for Brighton's first international tour. Since that time it has grown and continues to provide support for music students in many ways, including providing subsidies toward tours and the purchase of new instruments for students. It continues to be a not-for-profit organisation.
Port Adelaide
THE HISTORY TRUST OF SOUTH AUSTRALIA
The Art of Science: Baudin's Voyagers 1800-1804
Date: 30 June 2016 - 11 December 2016
Venue: 126 Lipson Street
Baudin's ships, Géographe and Naturaliste embarked from Le Havre in October 1800 for the southern continent carrying an impressive contingent of scientists and scientific assistants. Lavishly funded by Napoleon Bonaparte, the expedition's agenda was the discovery and study of natural sciences, underpinned by the emergence of new ideas and philosophies of reason and the rights of man. This exhibition will showcase original sketches and paintings created by Baudin's artists Charles- Alexandre Lesueur and Nicolas-Martin Petit during the voyage of 1800 to 1804. It will bring 50 of the original paintings and drawings from the Museum of Natural History in Le Havre, France to South Australian audiences for the first time.
Adelaide
Anne and Gordon Samstag Museum of Art
Art After Dark
Date: 14 July 2016 - 08 June 2017
Venue: City West Campus
Welcome to Art After Dark West End. On event Thursdays from 5pm, the West End precinct comes alive with a calendar of events. Our doors are open until late, with exhibitions, films, music, talks, food, beer and wine, workshops and more. We look forward to seeing you here in the West. Art After Dark West End galleries are open every Thursday during exhibitions until 7pm. For information on other events including film screenings and live music please contact participating Art After Dark venues. Admission is free unless otherwise noted on the program of events. Participating venues: JamFactory, Media Resource Centre and Mercury Cinema, Australian Experimental Art Foundation, Nexus Arts, AC Arts, Worlds End Hotel, University of South Australia's Bob Hawke Prime Ministerial Centre, Kerry Packer Civic Gallery, West Bar, SASA Gallery and Samstag Museum of Art.
Oaks Hotels & Resorts